Welcome to Yesterland park during the holiday season. Let's take a look at some of the decorations. We'll start at the Monsanto House of the Future, near the entrance to Yester-Tomorrowland.
This proves that a ribbon and bow can be festive, even if you don't use wrapping paper. Anyone who has ever tried to wrap paper around a rounded object knows how difficult that can be. Besides, wrapping paper would ruin the view from the floor-to-ceiling windows.
Let's head over to the moat in front of the castle.

A white Christmas tree stands in the moat of the Castle.
There's snow at the Castle! Well, there's really just some white flocking on the Christmas tree to simulate snow. White, flocked Christmas trees can show off brightly colored ornaments... but that's not the case here.
Maybe, someday, the Castle will have more impressive snow.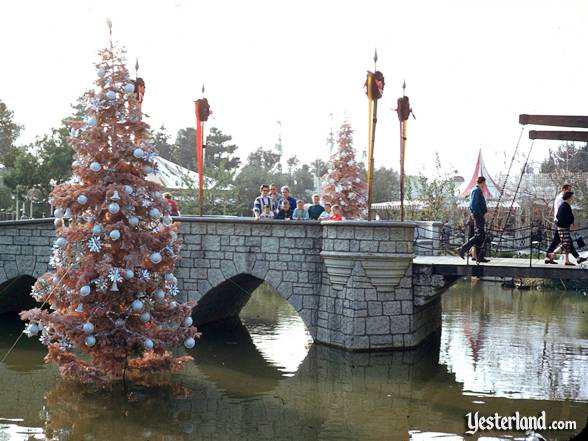 A Christmas tree color you don't see every day... burnt sienna?
Returning to the Castle moat, we see different trees. and these have ornaments. Where else can you see burnt sienna-colored trees? Now aren't you glad you visited Yesterland?
Our next stop is Yester-Frontierland.

The Golden Horseshoe saloon, festooned with Christmas garland
Slue-Foot Sue's Golden Horseshoe Saloon, home of the Golden Horseshoe Revue presented by Pepsi-Cola, is draped with evergreen garlands and red bows. By the way, there's a great show in there—with a live band, talented singers, can-can dancers, and a very funny young comic named Wally Boag. Sit down. Order a Pepsi and a bag of Fritos brand corn chips from the waitress.
If you prefer Coca-Cola over Pepsi-Cola, don't worry. You can buy Coca-Cola on Yester-Main Street and the east side of the park.
In fact, let's head down Yester-Main Street now.

Main Street garland, high enough for double-decker buses
There's a double-decker omnibus passing by the yellow Wurlitzer Music Hall. Go into the store to buy an organ, piano, or player piano—a great Christmas present and a fine souvenir of your visit to the park. Maybe a player piano roll would be easier to carry.
As you look past the bus, you can see the Main Street Opera House, with its beige façade and its green awnings. Too bad the Opera House isn't open to guests. (The park's lumber mill is in there.)

A magnificent natural tree near the Wurlitzer Music Hall
A huge, natural tree is a pleasure to look at.

The toy soldiers from Babes in Toyland on parade at Disneyland
In the 1961 Walt Disney movie Babes in Toyland, Tom Piper (Tommy Sands) gets an army of toy soldiers to fight the evil Barnaby (Ray Bolger), who had tried to have Tom killed so that he could have Tom's fiancée Mary Contrary (Annette Funicello) for himself.
The toy soldiers in the parade are delightful. The movie is somewhat less delightful.
Come back to the park in the future. The holiday decorations are bound to get better every year.
---
Beginning with Disneyland's very first Christmas in 1955, and continuing to the present day, Disneyland has always been decorated for the Holidays.
Over the years, the decorations have become more elaborate, more creative, and more carefully matched to themed areas—such as garlands with purple and green ribbons in New Orleans Square, garlands with pine cones in outdoorsy Critter Country, and all sorts of crazy, fun decorations in Mickey's Toontown.
Two major Disneyland attractions now get extensive holiday makeovers each year—resulting in Haunted Mansion Holiday (based on the 1993 movie The Nightmare Before Christmas) and it's a small world holiday (featuring holiday traditions around the world).
Let's return to two of the locations featured in this article—a half century after the earlier photos.

The Golden Horseshoe is again draped with green garland. (2007 photo)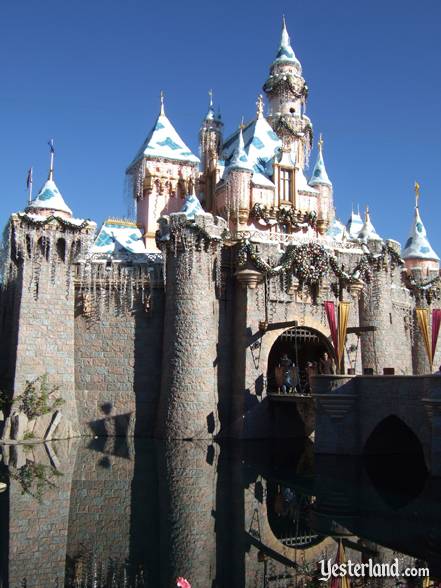 There are no trees in the moat. (2007 photo)
Instead of just having Christmas trees in the moat, Sleeping Beauty Castle now becomes Sleeping Beauty's Winter Castle. It started in 2007. For 2008, there are even more snowdrifts and icicles. When night falls, After dark, a sensational new holiday lighting and special effects show will carry the magic of the holidays from the Castle all the way to the Christmas Tree in Town Square.
In 2008, for the first time in the history of Disneyland, the park installed a completely artificial Christmas Tree. This tree has more than 62,000 energy-efficient LED lights. It's part of an elaborate light show that stretches from the Castle to the tree in Town Square.
In case you're wondering about some of the things you read on this page...
Pepsi-Cola sponsored the Golden Horseshoe Revue until September 1982. In 1990, Coca-Cola became the exclusive soft drink provider for Disneyland and Walt Disney World.

The Wurlitzer Music Hall operated on Main Street from Disneyland's opening in 1955 until September 1968. It was a showroom in which guests could see and hear Wurlitzer products.

The Main Street Opera House was not open to guests until December 1961, when it became the home of the Babes in Toyland Exhibit. Guests could see the sets from Walt Disney's 1961 holiday release, Babes in Toyland.
---
Click here to discuss this page on the Yesterland Discussion Forum at MiceChat!
---
Explorer Canoes
Aladdin's Oasis Dinner Show
Home
---
© 2007-2012 Werner Weiss — Disclaimers, Copyright, and Trademarks
Last updated February 7, 2012.
Photo of the Monsanto House of the Future: by Charles R. Lympany, courtesy of Chris Taylor.
Photo of white Christmas tree in the Castle moat: by Charles R. Lympany, courtesy of Chris Taylor.
Photo of decorated Christmas trees in the Castle moat: by Charles R. Lympany, courtesy of Chris Taylor.
Photo of the Golden Horseshoe Saloon: by Charles R. Lympany, courtesy of Chris Taylor.
Photo of Main Street garland: by Charles R. Lympany, courtesy of Chris Taylor.
Photo of Main Street Christmas tree: by Frank Taylor, courtesy of Chris Taylor.
Photo of toy soldiers from Babes in Toyland on parade: by Frank Taylor, courtesy of Chris Taylor.
The exact years of these vintage photos are unknown, but they are believed to be from the middle-to-late 1950s, with a few, such as the Toy Soldiers, from the early 1960s.

Photo of Golden Horseshoe Saloon: 2007 by Allen Huffman, courtesy of Allen Huffman.
Photo of Sleeping Beauty's Winter Castle: 2007 by Allen Huffman, courtesy of Allen Huffman.